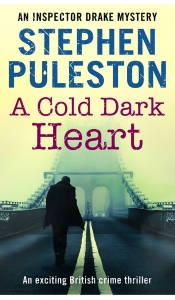 A Cold Dark Heart | 8th Inspector Drake Novel
Drake's most dangerous killer and shocking case yet…
Accident or murder...?
When eighty-nine-year-old Emyr Isaac is found dead in his home, Drake and his team initially suspect a burglary gone wrong. Isaac was old, and his death was a tragedy, but it's not a murder case…is it?
A grisly discovery...
But as the investigation develops, Drake uncovers more suspicous deaths, all elderly victims, all seemingly innocent, but with one connection – each victim received care from a healthcare professional during their last moments.
A twisted killer...
If Drake's suspicions are correct, they have a dangerous serial killer on the loose. Someone who should offer help and safety, not a chilling early demise. Soon, the team realise that stopping this killer will require playing a dangerous game - how do you catch a murderer trusted by everyone?
As a police officer, Drake will has taken an oath to serve and protect. And he must do all he can to ensure no more lives are lost…even if it means putting members of his own team in harm's way…