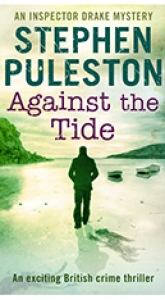 Against the Tide | 3rd Inspector Drake Novel Special Offer Price $0.99 £0.99
A fisherman is impaled by his own fork…
The small rural community of the villages of the island of Anglesey have a secret to protect. The dead man owns land connected to the development of a nuclear power station so somebody wants him dead very badly.
A young girl tragically killed…
Is the young girl's death connected to the fisherman's murder?
Is it simply money at stake? Or are there more complex motives involved? Who benefits from the proposed nuclear power station causing massive controversy?
A community reluctant to share its secrets.
Detective Inspector Drake has to delve deep into the heart of the community to find what connects the deaths. When he realises that secrets need to be protected he realise he has a race against time to find the killer and prevent more deaths.
How far will people go to protect their way of life and language?