Dead on Your Feet | 4th Inspector Drake Novel
A gruesome exhibit...
When the dead body of a woman is found on public display, the murder scene bears all the hallmarks of a famous work of art.   DI Ian Drake knows he is dealing with a very creative and intelligent killer - one who enjoys having their work showcased for all to see.
A gallery of death...
As more murders take place, each copying a famous work of art, Drake faces a murderer who always seems to be one step ahead.  And when one of the suspects is revealed to be his own brother, the pressure mounts...this case just got very personal.
The portrait of a killer.
The art world is small, but the murderer's ego is too big to hide forever.  Drake knows he is getting closer to unmasking the culprit, but can he stop the killer before their grand finale - and a very public murder?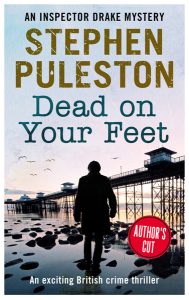 Dead on Your Feet - Author's Cut.
For the first time I've put together a book with the edited and removed sections of the latest Inspector Drake novel. These are sections removed after the structural and line by line edit that each of my novels has from my editor. She always makes great suggestions for improving each book. I thought it would be interesting to share with you those sections that didn't survive  the editing process. And also my analysis of how they were included and why they were deleted.
Claim your copy today.
It's very easy to claim your copy of  the Author's Cut. Just buy Dead on Your Feet and forward me a copy of the receipt from Amazon  Send it to this email address - doyfauthorscut@gmail.com.  I'll then send you copy of the Author's' Cut book. Here are the links.