Fan alert. I am a huge admirer of Val McDermid. I think she can walk on water, drink poison with impunity and write the sort of crime novels that I would happily have on my desert island disc wish list. If she wrote out the telephone directory, I would think it inspirational. Am I making myself clear? I really need addiction counselling.
The Last Temptation is another outing for Tony Hill and Carol Jordan and develops the relationship between the two. Hill is the claustrophobic academic fearful of his own emotions and unable to articulate his love for Carol while she is a career woman equally hidebound in not seizing the opportunity. She is thrown into a complex inquiry involving an undercover assignment in Europe because she is the spitting image of the late girlfriend of a major criminal. I know it stretches coincidence but with Val's writing you never feel it is taken to extremis. And she is able to involve Tony because of his profiling experience.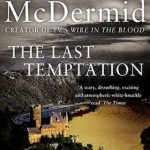 And so the adventure begins. It takes us into the grim world of historical abuse of children by the Nazis and its impact on immediate family. There action maybe a little slow in developing but all the characterisation is pitch perfect and the story flows between the worlds of the criminal that Carol is tasked with ensnaring , Carol's high risk environment and the tense buttoned-up world of Tony Hill.
The action is drawn together at the end with some final scenes that are bloody and grim but my only criticism was the rather shallow way the relationship between Carol and Tony was managed at the end. I read with undisputed awe and envy at the way she manages all her characters and the various threads of the plot. This is the sort of crime writing that I love to read and would like to write.