The Accident is the first crime novel by Linwood Barclay that I have read and it is the tale of a man who loses his wife in an horrendous car accident where apparently she was drink driving and as a result killed a man and his son. The initial crime has unforeseen consequences among the small quiet community where the action takes place. Barclay neatly fits into the narrative the pressures on families to provide for healthcare, something we in the UK take for granted. Although the author never seeks to preach at the reader and crime is never to be condoned or justified.
The pace of the narrative is consistent and kept me guessing as to the real killer and the motive for the crimes. Throughout this crime novel we have the feeling that Barclay is making a point about the value of small town community and that perhaps this is something to be valued.
It is always difficult with a hero who is not a detective in a crime novel in getting the motivation right to drive the narrative and Linwood Barclay gets this absolutely perfect.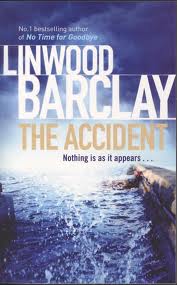 Linwood Barclay expertly eaves the subplots of Glen Garber and his daughter and his extended family into the novel. My only criticism was that at times I didn't feel enough tension for a crime novel and that he could have had a couple more scenes where the tension could have been raised. The final denouement gave me that 'of course moment' where we realise how we hadn't picked up the clues laid along the way.