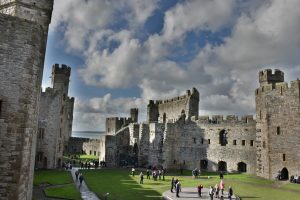 For a small country, Wales has a some of the greatest medieval castles on earth. Most of the enormous castles for which Wales is famous all over the world were built by King Edward 1st after his invasion of North Wales in 1282. They were built to tame the unruly Welsh population. The total cost of building the castles was enormous but the King proceeded in order to bring order to the wild population.
The famous castles of North Wales are all really spectacular and they are all well worth visiting. Some are more interesting than others but they are all a fascinating glimpse into the past. In North Wales the most impressive are Beaumaris ,on Anglesey; Caernarfon , probably the most spectacular and famous; Harlech, perched on the side of a hill overlooking the sea and Conwy , guarding the Conwy estuary. Beaumaris was never finished by the King although it has a wall-within-walls plan that makes it well worth a visit. These four castles that were built on the coast of North Wales on the counties of Anglesey and Gwynedd are a UNESCO designated World Heritage site – this Wikipedia entry has some fascinating information.
The fortifications played an important part in the conflicts in North Wales in the centuries that followed. Although their military importance declined after the Tudor dynasty succeeded to the throne. The Tudor were originally from Penmynydd, a small village in Anglesey – I'll write another blog entry about that family in the future.
In the 13th century Wales was still notionally a different country to England as it wasn't until 1536 that King Henry V111 passed what became known as the Act of Union. But before then the Kings of England had wanted to subdue the Welsh who could often prove to be disloyal and disobedient neighbours.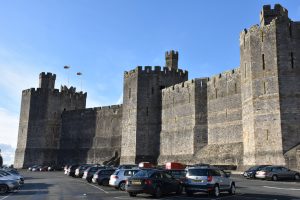 Wales is rightly known as the castles capital of the world and there were at one time 600 castles of which 100 are still standing. Click here for link to the page with a list of the castles.
The website www.castlewales.com has some interesting articles and great photographs that you might enjoy and www.visitwales.com will give you lots of information about our wonderful country