Michael Connelly is the master of Los Angeles crime fiction and Harry Bosch is his main hero. Settling into a Connelly novel is like slipping on a favourite jacket, familiar, comforting and enjoyable. In this, the 18th novel in the Harry Bosch series the maverick detective has left the Los Angeles Police Department under something of a cloud and has hired defence attorney Mickey Haller to sue the Department for forcing him out.
But Haller has other plans for Bosch. He's in the middle of a complex murder case where he is convinced the defendant charged is innocent, despite compelling DNA evidence. He persuades Harry Bosch to get involved in initially assessing the evidence against the accused. Bosch is reluctant to make 'the crossing' from the world of crime detection to defence legal work. But soon it becomes apparent to Bosch that the defendant is innocent and that there are other complex motives involved.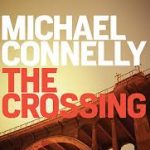 Bosch is reluctant to betray those principles he has defended for the entirety of his professional career hoping, indeed praying, that he doesn't cross over to the other side. But when he realises that the police who have built the case against the defendant have already made the crossing from upholding the law to breaking it Harry realises that he has no alternative. It completes his journey from police detective to the legal defence team.
Connelly expertly weaves into the plot the moral thread that in reality the police and defence can sometimes be on the same side – searching for the truth. It is that moral certainty drives Bosch to be part of the defence team despite the insults and hate mail and abusive text that he receives from former work colleagues.
Connelly's knowledge of police procedure and how the law works stand out while never straining the readers ability to keep up with the plot. So much of police procedural can be extremely boring and the minutiae of a crime scene investigation if told in excruciating detail could be excruciatingly dull. Connelly manages, has always, to get the balance absolutely right leading to an engaging compelling story. The writing is crisp and taut dragging the reader along with every sentence and every paragraph.
Unmissable stuff and highly recommended. Click Below for links to buy a copy of The Crossing