Val McDermid has rightly garnered praise for her outstanding crime novels over the years. I am great fan and always enjoy reading one of her novels. Out of Bounds features detective Karen Pirie. The great skill that Val McDermid brings to her writing is to make the usual crime trope of a maverick detective challenging her superiors, with personal issues [in this case her insomnia and her grief from losing a partner], into something fresh and exciting. It is this lightness of touch that I find so absorbing in Val McDermid's writing. I suppose it is an indication of a writer of the height of her powers.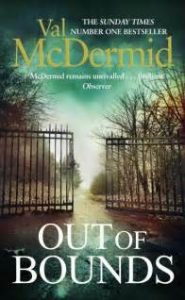 The plot centres around evidence recovered from the scene of a crash when a teenage driver ends up in a coma. The DNA links back to a twenty-year-old unsolved rape/murder case. Val McDermid expertly weaves the real life complications the legal system throws up into the developing plot making it all the more believable and enthralling. The second thread line in the novel relates to the apparent suicide of a man who has mental problems. Detective Pirie goes out on a limb to work on this case, risking her professional career and the respective her colleagues in doing so.
The plot takes Karen to London where she has to face investigating a member of the establishment who she believes may be involved in the historical deaths that had previously been thought of as an accident. Insights into Karen's life are always astute and additional colour and layering was added by Karen's befriending of Syrian refugees. I know that criticism has been made in the past of Val McDermid's own views being too prevalent in writing but this suits me fine.
I have always admired the way in which Val McDermid can weave together a historical plotline with another more contemporary narrative. She did this expertly in A Darker Domain the second book in the detective Karen Pirie series, and another great read. Out of Bounds is not without its faults – there are occasions when I felt the book lacked tension. The sort of tension that Val McDermid has been able to get into her other novels.
Whenever I finish a book by Val McDermid it fills me with a feeling of utter inferiority. And an undiminished awe at her ability to write a crime novel that immerses me immediately with the characters and plot.
Out of Bounds is a great read. Not to be missed.