Roseanna
Roseanna is the first in a series of ten books by the writing team behind the Martin Beck mysteries. It is one of the books that Henning Mankell specifically mentions as inspiration for his character Kurt Wallander.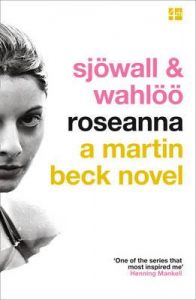 And it is credited with being the inspiration for lots of Scandinavian noir that has developed since the 1960s. It is a classic police procedural which follows Martin Beck as he struggles with tracking down the killer of a young girl found naked in a lock in a Swedish waterway. She has been abused and strangled but there no clues as to her identity so we get months of painstaking work where detectives have to identify who might have been present, and who might be possible suspects.
No typewriters
The novel was written years ago in the 60s when detectives used typewriters and there were no mobile telephones. But it doesn't mean that the narrative is less engaging. The detectives face the same challenges – how to balance family life with the demands of the frantic police investigation, dealing with the friction between various police officers.
Sweden
What I particularly enjoyed was the sense of place. I was in Sweden with a detectives learning about what it was like to live there. By today's standards it could be it would be easy to describe the book as slow-paced, perhaps even boring at times. There is a dignified humanity in the way in which the police treat the investigation.
Despite Roseanna being an American and despite their frustrations in being able to find her killer quickly there is never any suggestion they might give up. This nobility of cause is found in the writing of Henning Mankell who gives his very flawed character a moral imperative. And I can see how he would have been inspired by this novel to write crime fiction.
It stands as one of the landmark novels in the development of crime fiction. I thoroughly recommend it as a satisfying read although not one to leave you breathless and reading to the small hours of the morning.