Peter Robinson has built a stable of well known and reliable characters for his Alan Banks novels. When a body of young girl is found badly beaten on a road in the remote Yorkshire countryside the investigation into her death coincides with Alan Banks been promoted to superintendent. He is involved in a high-profile investigation into historic paedophile complaints that weaves a modern and prescient thread through the investigation made more acute by the references to Jimmy Saville and other well-known offenders. Other big issues touched on are police corruption.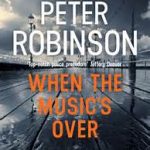 All the characters are skilfully drawn and we get drawn into the lives of each as Peter Robinson expertly draws us in. The book is quite long as might be expected from two stories being woven together. In many ways that is a strength but on occasion I felt the narrative pace dipped. There weren't quite enough turns in each story.
One of the outstanding features is the way in which different women were affected by abuse. The older woman, abused decades earlier by a high profile personality, has built a life around blanking out what happened. The younger victim from a poor background is caught in a cycle of entrapment and grooming until she had no life left at all. The book doesn't over dramatise nor lack a descriptive power when describing the events that affected both women.
Events are told against the challenges Alan Banks faces as a superintendent involved in such a high-profile enquiry and his relationship with Detective Inspector Annie Cabbot. It felt like revisiting old friends. With Alan Banks as  Superintendent can we see Annie Cabbot as the lead detective in future novels?