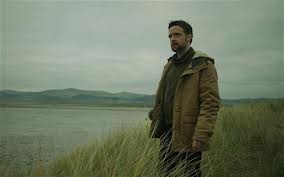 In the UK we are well accustomed to watching crime dramas with subtitles, usually in Danish or Swedish such as The Killing and the Wallander series from Sweden. We are less accustomed to watching a programme subtitled in Welsh [a language spoken by 19% of the population of Wales]. Hopefully the recent showing of Hinterland on BBC Wales will change viewing habits and bring this excellent crime drama to a general UK wide audience.
Richard Harrington star of many dramas including Lark Rise to Candleford is superb as the brooding and troubled detective with the alluded-to troubled past. In fact all the cast are excellent and the interweaving of Welsh language scenes into the main narrative is typical of the way people live their lives in Wales especially in the areas where Welsh is spoken widely.
The story opens with the discovery of a badly mutilated body of an elderly woman who had been in charge of a children's home. The plot assembles a suitable number of suspects and we see the interplay between the characters and the tension of a police investigation. The programme is procedurally accurate and has some nice touches that remind us this is policing in a small town.
The series was filmed twice once entirely in Welsh and it was shown on S4C last autumn. The atmospheric brooding character was not lost in the English language version making Hinterland one of the best programmes to have been made in Wales for many years.
Another series is on its way. Great.