This was the debut novel from SJ Watson that was an instant success. It is easy to see why. It is an intense psychological thriller. Christine wakes up every morning with no memory of the day before or indeed of her previous life. So everyday becomes a voyage of discovery. She lives with her husband and gradually through contact with a counsellor she keeps a diary that she uses to reconstruct her memories each morning. The reader knows that something is wrong because Christine doubts the bone fides of everyone around her. She learns about her family and about her friends and at each turn the tension of the narrative is built up with perfect timing.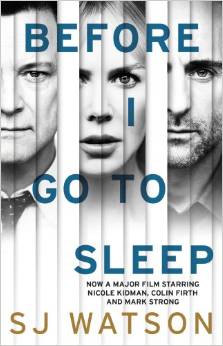 As the reader hears so much of Christine's thoughts about her past and her family it could have been so easy for the author to have made the narrative repetitious but luckily the confidence and assurance that Watson brings to the story telling never lets the pace slip. It becomes a journey to try and identify what has really happened and what the outcome is likely to be. The plot is not without its weaknesses and there are some rather improbable devices used but the skill of the author is to tell a story that enables the reader to suspend disbelief so that we have sympathy with the main character. And that was certainly achieved.
This novel is typical of the psychological thrillers that publishers favour these days and I wonder how his second novel will compare.